Worried there could be repeat of situation that prevented some African delegates from attending International AIDS Society conference in July.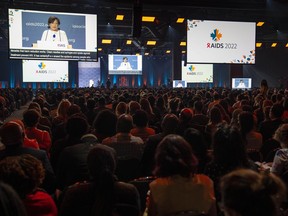 Article content
OTTAWA — With the start of a major international summit next month in Montreal just days away, human rights advocates, accusing the federal immigration department of racist policies, fear a possible repeat of the problems that prevented some African delegates from attending a summit last summer in the city.
Article content
The Ministry of Immigration, Refugees and Citizenship (MIRC) claims to have found no flaws in the processing of visa applications for the International AIDS Society conference in July. Still, some delegates from Africa were denied visas or were still waiting for a response before the conference began.
Article content
"The whole system is designed to exclude people," said Madhukar Pai, Canada Research Chair in Translational Epidemiology and Global Health at McGill University.
Next month, Montreal will host a UN conference, COP15 on biodiversity, but delegates from regions most affected by species decline fear they will be stuck at home.
"There is something about our system of government that is what I call anti-Africa or anti-Black people, and that worries me a lot," Pai said.
Article content
For years, he attended conferences where his African colleagues had more difficulty obtaining visas than his Latin American and Asian peers.
It's a problem he has seen at events in the United States, Britain and Canada, and one that particularly concerned him last spring when Ottawa struggled to process many applications for refugee status when renewing passports.
"I don't know if the government really learned much from the AIDS conference fiasco," Pai said. "The anger was so palpable, to have all those empty seats of missing African delegates. I am concerned about any international conference that will be held in any part of Canada these days."
The ministry does not share this concern.
"The MIRC is employing all available tools to expeditiously facilitate the review of several thousand visa applications," wrote spokesperson Jeffrey MacDonald.
Article content
The department says it has created an extraordinary events unit that works with organizers to ensure that Canadian diplomatic representations abroad have a list of registrants. People can use a specific code when they make their request, which then takes priority.
"The MIRC works closely with the Canada Border Services Agency and event organizers to ensure the application process and requirements are well understood. This ensures visa applications are reviewed in a timely manner so that participants can easily enter the country," MacDonald added.
The ministry suggests that guests at the AIDS conference may have botched their visa applications.
"Waiting too long or skipping the code for an event can cause a delay in the process. There are always compelling reasons to deny certain individuals entry into the country," MacDonald said.
Article content
Lauren Dobson-Hughes, a health and gender expert, says Canada and other Western countries need to recognize a much larger problem.
"It's a systemic problem across the planet. We tend to be divided into two groups: the donors from the north who are often the hosts of these conferences and the people from the south who suffer from the problems. But the conferences are about them, (and) they are organized without them."
Dobson-Hughes recalled summits in 2016 and 2019 where African delegates were unable to obtain visas despite receiving an official invitation from the Canadian government.
"I don't think officials at Global Affairs Canada are particularly happy to see their own government denying visas to some of their African colleagues with whom they have established a good relationship."
Article content
She hopes that the next Canadian strategy on Africa, which the parliamentary secretary to the minister of foreign affairs, Robert Oliphant, will present next year, will include a section on visas.
"There are technical solutions, but these will only be effective if we deal with the underlying problem, namely biased and racist attitudes,"  Dobson-Hughes said.
In 2018, the Globe and Mail revealed that Canada had refused a majority of visa applications from a dozen African countries.
But because of the reduced Canadian diplomatic presence on the continent, the process can be complicated: people often have to travel several thousand kilometres or cross borders.