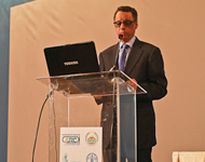 International Conference on Policies for Water and Food Security in Dry Areas
Linking field and research evidence to policy and policy into action: the first day of the conference sparks an animated debate among participants.
How to improve efficiency in water allocation through financial and non financial instruments? To which extent investments can produce a positive impact on productivity, efficiency and food security in a sustainable manner?
How the increasing scarce and not equally accessible natural resources are managed by the different countries? How the available technical knowledge is applied on the field?
These are some of the questions that have been debated yesterday during the first day of the International Conference on "Policies for Water and Food Security on Dry Areas" jointly organized by ICARDA, FAO, IFAD, IDRC and ARC under the patronage of the Egyptian Prime Minister.
The first day of debate animated a discussion about intertwined challenges related to water resources management and food security and ways to translate policies into action to the benefit of smallholder farmers in drylands areas.
"An integrated approach to nutrition and food security and sustainable natural resource management is what is needed. According to
 FAO projections, the Near East and North Africa is a region that will not be able to feed itself by 2050 and may even see an increase in its dependence to imports if the current production and consumptions patterns are not reversed" stated Mr. Abdessalam OULD AHMED, Assistant General Director of FAO " FAO has recently revised its strategic framework , reducing the number of its strategic objectives from 11 to 5 to become cross-cutting,inter-sectoral more focused on results at country level. This will guide more efficiently the work of FAO with its member countries and partners to meet current development challenges," he added.
Use of integrated approaches was the focus of the ICARDA Director General's intervention, "Ministries of Agriculture have to work hand in hand with their respective Ministries of Finance and Planning to develop solutions that are sustainable". The DG Mahmoud El Solh also referred to the crucial role that science and technology can play in addressing food security and development challenges.
On the same wave length, Mr. Hussein Hajj Hassan, the Lebanon Minister of Agriculture, highlighted the importance of integrating innovative high tech approaches into the formulation of policy solutions. The Minister also encouraged to use a more proactive approach to follow-up on discussions on water security.
Water security was introduced as one of the main challenges faced by Ministry of Agriculture and Irrigation of Yemen where half of the country's population is involved in agriculture despite the water shortage that affect many areas. "New approaches to address and reduce poverty are badly needed", he recommended.
Climate variability and competition for limited water resources was the focus of the Egypt Minister for Agriculture and Land Reclamation, Mr. Ahmed Mahmoud Ali Algizawi. Increased productivity combined with the use of new technologies were presented as solutions to boost production capacities in the farmlands.
Alternative solutions proposed to improve food and water security were resource conservation along with reduction of food losses and waste. Weak accountability was pointed as one of the biggest obstacles towards the achievement of this important goal.
The debate inaugurated yesterday will continue today and tomorrow for the production of action points and recommendations to improve water and food security in a global level.