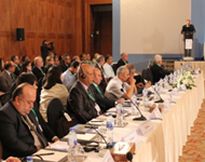 Policy Dialogue on Water and Food Security
A policy-research-civil society focused dialogue brought perspectives from Iraq, Egypt, Oman and Yemen during the second day of the Conference. The FAO set the scene with the results of its recent assessment of water and food security, within the frame of the Regional Water Scarcity Initiative. The analysis was introduced by consultant And y Bullock.
He pinpointed three areas where improvements can be made to contribute to food and water security at both country and regional levels, namely: the gap between demonstration projects and national policies that determines the failure to scale them up to benefit millions of smallholder farmers; the fact that the water policy is influenced by other factors that lie outside the water sector and have implications at the level of political economy.
The third gap is the general absence of specific food security strategies in many countries. He commented that it is difficult to design a national strategy and action plan without a clear picture of the future food needs.
One pressing issue highlighted in the policy dialogue is the need for a better "knowledge translation" of research and policy concepts to the use of smallholder farmers. Water-food-energy nexus was reaffirmed as an emergency issue to be addressed.
The group felt that – while solutions to water and food security are well developed and debated between the research and the policy community – very few of these concepts leave that circle. Consequently, there is an urgent need for strategies, processes and initiatives to move practical information on land and water management to rural communities. This will not work without political will.
WHY IS THERE A NEW SENSE OF URGENCY TO ADDRESS WATER AND FOOD SECURITY?
MR. Abdessalam OULD AHMED – FAO ADG and Regional Representative for the Near East and North Africa
During the last FAO Conference Member States reaffirmed the importance of escalating FAO goal from reducing to eradicating hunger and to step up efforts. We are now focusing more on partnerships with international organizations that share the same objectives and mandate like ICARDA. The big push for water comes from our key objective of sustainable provision of agricultural products and services. Since water is the basis for it, the big question is how to improve its availability. We see several ways to accomplish this such as leaning more toward crops that use less water, more efficient water irrigation cycle and reducing indirect wastage. Unfortunately there is not quick solution for sustainable water governance and food security. We need to look toward evidence and science based solutions and that is where experience of organizations like ICARDA can provide direction.