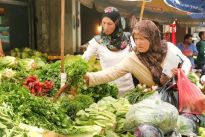 Strengthening Production and Marketing of Lebanese Agriculture
Lebanon's agricultural sector, once a strong and dynamic regional exporter, has been lagging behind the fast-paced developments in international quality standards and technology. The dire situation of Lebanon's present agricultural sector is reflected by the fact that 80% of food consumed in Lebanon is imported.
For that reason, FAO and the Lebanese Ministry of Agriculture started launched a project to restructure and upgrade the sector and enable it to meet the requirements of international standards and trade agreements.
The project, named "Strengthening Production and Marketing of Lebanese Agricultural Products" was funded by the Italian Government and aimed at updating the related legislative and regulatory texts, as well as at building institutional and producers' capacities for an efficient delivery of services.
With a focus on three main areas, namely plant health and agricultural production, food safety (food inspection & control, and postharvest) and marketing, the project managed to achieve important results, being able to promote and finalize the formulation of the draft of a new framing law and registration decree for pesticide management.
Over 7000 farmers were trained through the development of farmers guides and manuals in extension, food inspection and other technical matters. Staff of the Lebanese Ministry of Agriculture was trained through oversea field visits.
The capacities of the Ministry of Agriculture were also built through regular assistance for food inspection and control improvement at border points and internally, as well as through regular development of laboratories capacities. Over 960,000 USD worth of equipment were provided to border points and domestic inspectors, and other MoA services to duly perform quality control at borders.
Four pest survey plans were developed and a National Phytosanitary System Development Strategy was produced.
Another huge achievement of the project was the formulation of the Agricultural Export Promotion Strategy which aims to increase agricultural exports to 800,000 tons in 2020, developing a guide for exporters who wish to expand their citrus business into the Russian Federation.
Four Management Information Systems were also created to better knowledge sharing among relevant stakeholders and the Lebanese Phytosanitary Index was developed as an online and mobile tool (LebPhyto) to pilot traceability systems for fresh fruits and vegetables export supply chains.
Although these achievements have established a crucial program for strengthening an ailing agricultural sector, they have also laid bare the urgent need for continuity, in order to avoid its relapse. The sector is still suffering from unsafe food products and practices, which are harmful to Lebanese consumers and which hinder exports to otherwise willing trade partners. There remains, therefore, a great deal of critical effort required by FAO Lebanon and its partners to deepen the strategies, procedures and support that the project has thus far installed throughout the sector.
In the future efforts, framed by the international standards and conventions, must center on intensifying the advisory role, research and development, marketing and material support for the following areas: 1) Enhancing risk based sanitary and phytosanitary measures at border inspection points; 2) Upgrading inputs regulatory systems; 3) Improving confidence in domestic goods by strengthening safe production practices; 4) Enhancing value chain development for increasing marketing and export; and 5) Improving domestic and export marketing channels.