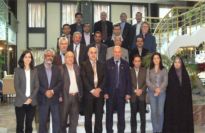 Support Cooperation on Water Resources Management in the Lower Mesopotamia GCP/RAB/012/ITA
FAO, in collaboration with the Italian Cooperation and partners in countries, is implementing the project GCP/RAB/012/ITA: "Support Cooperation on Water Resources Management in the Lower Mesopotamia".
The overall objective of the project is to promote sustainable development in the lower Mesopotamia by supporting countries cooperation to address common problems of water resource management. Due to the instability in the region and the open areas of tension on water management, the Project seeks to implement a set of lower key alternatives that can, in addition to their technical and institutional collective benefits to improving water resources management, act politically as confidence building measures.
This will be done by achieving the following outputs: (1) Established hydroeconomic modelling for the lower Mesopotamia region; (2) Strengthened capacity of national institutions in water resources management through the application of advanced tools and trained skills; (3) Enhanced understanding of river basin management and water quality issues at sub-basin level and improved water quality monitoring systems; (4) Set up a technical and institutional platform for a water resources early warning system; (5) Established and further developed lower Mesopotamia cooperation and coordination mechanisms; and (6) Implemented in country pilot projects on agriculture water management.
The workshop "Capacity development for farm management strategies to improve crop-water productivity using AquaCrop" contributes to achieving output (2) by building the capacity of national institutions in water resources management. The main objective of the workshop was to build local through the application of FAO crop-water model, AquaCrop, so to develop their skills in strategic on-farm management towards increased crop-water productivity in rainfed and irrigated production systems.
AquaCrop is a model that simulates yield response to water of herbaceous crops (http://www.fao.org/nr/water/aquacrop.html). It is designed to balance simplicity, accuracy and robustness, and is particularly suited to address conditions where water is a key limiting factor in crop production. It is a companion tool for a wide range of users and applications including yield prediction under climate change scenarios.
Seventeen participants attended the 5-day workshop. They came from several official institutes and organizations in Iran and Iraq. These are: the Iranian Ministry of Jihad-e-Agriculture, the University of Teheran, the Soil and Water Research Institute in Karaj (Iran), the Iraqi Ministry of Agriculture, the University of Baghdad, the Ministry of Agriculture and Water Resources of the Kurdistan Region.