Social media users cannot keep still following the ongoing feud between Ghana's Big Ivy and Naija's Mummy Dolarz.
The beef resulted when Ghanaian rapper CJ Biggerman made a beat for his mum [Big Ivy] to celebrate her while she rapped about all the things she's done as a mother.
Some Nigerians felt Ghana could not display enough creativity, therefore, calling on their mothers for a challenge.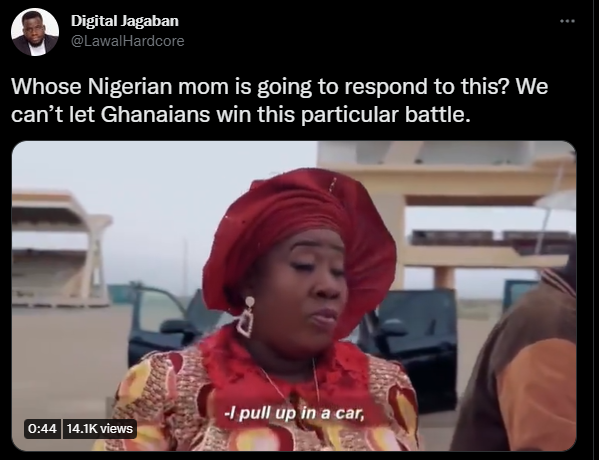 In regards to this, Nigeria's Mummy Dolarz with the help of her son comedian Oluwadolarz also released a track throwing shots at Big Ivy. This has now generated a new Ghana-Naija beef.
Of course, beefs aren't beef without back-to-back shots so, Big Ivy had to reply to Dollars' shots.
Most comments and tweets flying around approves Big Ivy as the 'moma' of the moment – but will Naija's Mummy Dolarz make her way through the dark tunnel to see the light?
Big ivy got bars herrhh 🔥🔥chale, see how she turned mama Dollars to Naira simple .😂🤣😂 omo nija u are not ready for this .dead

— MeduzaaMedia (@HeadofMeduzaa) July 27, 2022
Big Ivy been giving dem pressure 😂
Ghana 🇬🇭 to the world 🌍 pic.twitter.com/6sAYfMFfI5

— Memp3 ruf😏😂 (@Kophy_21) July 28, 2022
Ghana's Big Ivy and Nigeria's Mummy Dollars is catching fun.

But Big Ivy get bars and flows pass! She's murdering it. 😂 🇬🇭 🇳🇬

— Dinepre_1🇳🇬🐬🦅 (@Opu_Abadi) July 28, 2022
I understand MI only to be saying that he's not surprised that even Big Mama regards him as the GOAT. But if it requires the whole nation to ghostwrite for mommy, that is what we shall do.
😹 https://t.co/V5JJTi8g1g

— 🗿 (@iakarimgh) July 28, 2022
I do my mind say Big Ivy then Mama Dollars dema beef sake of I don't like vawulence 😂😂😂
Buh now, I have to follow because of Big Ivy ❤️🇬🇭🇬🇭🇬🇭
GhaVsNig 🇬🇭🇳🇬#BBNaija #28กคแต่งดําทั้งแผ่นดิน #koundeisblue #fromis_9 #bigivy #الفجيرة pic.twitter.com/6QCuQDtOwp

— Lord Nelson (@thehighestblog) July 28, 2022
The painful part be sey Buhari saf dey catch stray bullet 😭🤣🤣
Big Ivy to the f*rking wiase 😂🤲🏾 https://t.co/fdYPuYSfyB

— Kwabena Yebs (@RapcidYeboah) July 27, 2022
Kindly follow my mum @AdjimahIvy (BIG IVY) as she is representing Ghana strongly 🇬🇭🇬🇭🇬🇭🇬🇭 against our people from Naija 🇳🇬🇳🇬🇳🇬🇳🇬🇳🇬 pic.twitter.com/ANVYrAgQGB

— CJBIGGERMAN (@Cjbiggerman) July 27, 2022
A tale of two Mummies 🇬🇭vs🇳🇬

1. Big Ivy😎🇬🇭- Not your average mummy pic.twitter.com/WQu89BiYlX

— Jeremy🎭 (@remy_jayy) July 28, 2022
I watched the first video, big ivy was just catching cruise with rap o without calling anybody o, i no know why Nigeria go answer con add beef for her own😂, now We don start Nigeria and Ghana entertainment industry beef again😂. Naija we just too like wawulence😂 #naija #Ghana pic.twitter.com/YPZSznvEuX

— MOSE JR (@merryblaque) July 28, 2022
Some are also calling for a concert to be held for both nationals to show off their talents.
There is going to be a BIG IVY and MAMA DOLLARZ concert in Nigeria soon. 🇬🇭 🇳🇬 @Cjbiggerman bookmark this

— BASE AFRICA TV (@BaseAfricaTV_Gh) July 26, 2022
BiG IVY de come show Mama Naira say she be champion .this gonna over the Nigerians .Ghana no be joke ooooo we get everything ma broda @Cjbiggerman https://t.co/sw8wSU7FZv

— Mark Kyei Donkor (@MarkKyeiDonkor1) July 26, 2022
Beef of the season , Big Ivy then Mommy Dollarz .. if you no dey follow dier then you dey do your body cos e make hot pass 😂😂🔥🔥

— Mempeasem President (@AsieduMends) July 26, 2022
You guys ( Nigeria ) dey like 'copy and paste' Ghana 🇬🇭 too much , see what Big Ivy – do your momma dollars 😂 @Cjbiggerman show dem 🔥❤️ !! pic.twitter.com/AnoemeKesh

— FlexGermain Online 🇬🇭 (@flexkgermain) July 27, 2022
Big Ivy with the baaaars 😂😂 mama teach them!! This is not singing, this is rap!! https://t.co/KbUfMRV8wk

— BB (@mrs_boamah1) July 27, 2022
Meanwhile, Mummy Dollarz has heard the new track from Big Ivy replying to her diss. The Nigerian woman is readying herself to take another shot.
Mummy Dolarz is about to reply Big Ivy 🤣🔥🔥🇳🇬. What a time to be alive 🔥🤣https://t.co/30i6S6VFw2 pic.twitter.com/VsrfvyYeVk

— Headless YouTuber (@HeadlessYouTube) July 27, 2022
See more reactions below.
Round One of CJ Biggerman's Mum(Big Ivy; Ghanaian) and Mummy Dollarz (Nigerian) Who won? 🔥🔥😂

— Paekid 🥶🧨💥 (@osgoodpaekid) July 21, 2022
Before you touch the tail of a sleeping Lion be ready for every repercussions. @AdjimahIvy – Mama Naira (@MamaDollarz Reply).

For full audio and video https://t.co/3zcq7EoC0Y 🇬🇭🇬🇭🇬🇭🇬🇭🇬🇭🇬🇭 pic.twitter.com/efu1uxNdwF

— CJBIGGERMAN (@Cjbiggerman) July 26, 2022
Those ewe lines are calls for everlasting burial for mama dollarz.

Mama Dollarz has made Big Ivy to shot a lot of Nigerians unprovoked including Buhari 😂😂😂😂

— Sam (@SampsonDoh) July 26, 2022
What a time to be alive 🤣
2 Mothers are having a rap battle.
🇬🇭 Big Ivy vs Mummy Dolarz 🇳🇬

— Headless YouTuber (@HeadlessYouTube) July 20, 2022
How she said the "Yo" 😂 watch till the end Big Ivy | Tracy Boakye | Trenches pic.twitter.com/RHjSNiQZSm

— DAiK BLOG (@daik_blog) July 27, 2022
First It Was Our Jollof. Now Our Mothers Are Rapping Against Each Other😂😂The Ghana-Nigeria Love Be Inevitable. I'm For Big Ivy Tho✌️😑🇬🇭

— CRÉATIVE JUNKÏE🇬🇭🖤 (@NanaMadeInChina) July 28, 2022
The Ghana Woman (Big Ivy) came back for Mummy Dollars and this time not only did she Sub Mummy Dollars! She Shaded the Naira! 🥺🥺🥺. And also called our President Ineffective 😭😩😭😩😂😂😂😂. pic.twitter.com/tG9mPIrxfP

— 👑 M-A-R-C-U-S 🦁 (@Real_mrAce) July 27, 2022