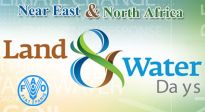 Managing Systems at Risk: Water Scarcity and Land Degradation in Near East and North Africa
The Near East and North Africa (NENA) is one of the most water scarce regions in the world. The per capita availability of fresh water resources of the region is 10% of the world average and is projected to decrease by 50% by 2050 if the current trends in population growth and consumption patterns continue at the same pace. With over 70% of its land under desert or arid conditions, the Near East and Africa is expected to suffer severe impacts of climate change that, coupled with an increasing food demand, will put the agriculture and the limited natural resources of the region under progressive pressure. Inappropriate land and water management practices, have so far harmed the region's fragile natural resources.
Although countries of the region have consented vast investments and made progresses to tackle this challenge, actions are not yet commensurate with the magnitude of the problem. To find collaborative solutions for the improvement of agriculture, water management and food security in the region, FAO, together with 14 partners across the region, and in collaboration with the Hashemite Government of Jordan, is convening the Land and Water Days in Amman.
WHAT: Organized under the patronage of the Prime Minister of the Hashemite Kingdom of Jordan, the "Near East & North Africa Land and Water Days", is the first, unprecedented knowledge-sharing platform in NENA region that will give governments, development partners, technical experts, and civil society organizations the opportunity to jointly deliberate on innovative and effective ways to critically review prevailing patterns of agricultural production and land and water management in the region. The platform will also seek new solutions to improve current patterns and evaluate their potential for sustainability and long-term change.
Abdallah AlNoussur, Prime Minister of the Hashemite Government of Jordan and Akeef Al Zubi Jordanian Minister of Agriculture will open and address the meeting. During the opening ceremony Ould Ahmed Abdessalam, FAO Assistant Director-General will deliver a speech in addition to Mahmoud Abou-Zeid, President of the Arab Water Council who will be actively contributing to the plenary sessions of the regional event. Ministers, delegates and global experts from some 19 countries of the region are expected to attend the meeting.
NOTE TO EDITORS AND CORRESPONDENTS: A Press Conference will take place on the 16th of December at Le Méridien hotel in Amman at 09.30am hrs local time
Land and Water Days Info Note (English Version)
Land and Water Days Info Note (French Version)
Land and Water Days Media Advisory (French Version)