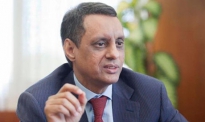 Quinoa, the 'wonder cereal grain' makes its way into Near East and North Africa's countries
FAO assists Member Countries for the introduction of Quinoa in Algeria, Egypt, Iraq, Iran, Lebanon, Mauritania, Sudan and Yemen
"Throughout time crops have been exchanged between communities and regions, with enormous benefit to humanity as a whole. The Near East and the North Africa region has given to the world, wheat and barley crops. A protein rich crop with tremendous nutritional and health properties, Quinoa is one the fastest growing crops worldwide and can offer a viable contribution to food security and nutrition in the Near East and North Africa." says Abdessalam Ould Ahmed, FAO assistant director and regional representative for the Near East and North Africa.
Adaptable, through different varieties and ecotypes, to different climates and also to adverse growth conditions, efficient in water use, Quinoa bears the potential to become an industrial and food crop in a region where over 70% of land is under arid or desert conditions and that is one of the most water scarce region in the world.
Under a new Technical Cooperation Project, Member Countries will receive FAO technical assistance from to select the best genotype to be introduced to Near East and North Africa production.
"Quinoa can play a key role in food production in reclaimed desert lands due to its salt tolerance in poor soils" says Mohamed Dost, FAO regional crop production expert and adds "However developing Quinoa in the countries of the NENA region requires continued development for better varieties. Field evaluation under different afro-ecological regions are necessary to identify suitable varieties able to ensure good yields".
The project will be launched in Algiers during January 26-27 and will promote partnerships with international research centres, universities, cooperatives, civil society organizations, agro-business and seed enterprises to study, assess and evaluate characteristics of the genotype to be introduced.
The adoption of this high adaptable grain crop can contribute to national efforts on food security and poverty reduction which have already enabled some of the countries of the region like Algeria, to meet the Millennium Development Goal target of halving the proportion of hungry people ahead of the 2015 deadline.
The wonders of Quinoa
Store of essential amino minerals, vitamins and fiber and low in fat, Quinoa can be a key food in a region that scores high rates of obesity (one quarter of the Near East and North Africa countries is considered obese).
The World Health Organization values Quinoa as possessing protein of a quality similar to milk while the United Nations classify it as a super crop on account of its nutritional value and high protein content.
Saponins contained in the Quinoa are believed to have health promoting properties like anti-oxidant, anti-cancer, anti inflammatory and anti-viral properties. They have been already used to treat diabetes, hepatitis, high blood pressure, high cholesterol and mental and physical stress.
French Version (Le Quinoa trace sa voie dans les pays des régions du Proche-Orient et de Nord de l'Afrique), Click here…