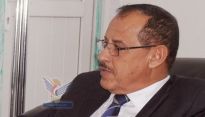 FAO grants Yemen $0.5 m to combat desert locusts
Food and Agriculture Organization (FAO) gave on Tuesday Yemen a grant of $500,000 to support the country's efforts to combat desert locusts.
The grant aims to enhance the capacity of the Ministry of Agriculture and Irrigation to fight desert locusts, particularly in Tehama area.
The grant's agreement was signed by Minister of Agriculture and Irrigation Fareed Mojawar and FAO representative in Yemen Salah Hasan.
Later, Mojawar and Hasan reviewed the joint cooperation between Yemen and the organization in areas of food security and combating plant pests.
FAO's representative in Yemen expressed the Organization's readiness to provide all support for Yemen in boosting up the agricultural development and achieving food security, as well as assisting the Ministry in carrying out its programs and plans in accordance with the food security national strategy for 2012-2016.