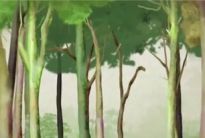 International Day of Forests: FAO stresses on the essential role of trees in controlling desertification and adapting to climate change
New data released on the occasion of the International Day of Forests confirm that globally the area of forest continues to decline with biggest losses of forests worldwide.
Improving information on forest resources is a key factor in halting forest degradation, said FAO on the International Day of Forests (IDF), celebrated by the United Nations today.
FAO is using this year's celebration to discuss ways of how to improve the availability of information on the state of forests at all levels, nationally and globally.
The threat of desertification and climate change in the Near East and North Africa
Persistent degradation of dryland ecosystems by human activities, climatic variations and dominating arid and semi-arid conditions make the threat of desertification particularly acute in the Near East and North Africa. "Controlling and predicting the human and climatic factors that originate and aggravate itare key to reduce desertification. Trees can play a strategic role in controllingit" says FAO.
Although in the Near East and North Africa forests cover only 6.3% of the total land area, they provide goods and services that go far beyond the mere provision of wood and food.
"Given theharsh climatic conditions of the region and the NENA structural scarcity of water resources, forests can significantly contribute to reduce desertification, protect water supplies and resources, adapt to and mitigate the impact of the climate change" says Abdel HamiedAdam, FAO regional forestry expert.
"Countries like Algeria, Egypt, Libya, Tunisia, Jordan, Kuwait, Bahrain are using around 4.3 million hectares of forest for its protective function against desertification and land depletion" he adds.
A green belt to face the advance of the desert in Mauritania
The Region can list a good number of successful experiences undertaken to control desertification through tree planting. The Green Belt surrounding Nouakchott strengthened during 2000s has successfully helped in reducing sand encroachment and protecting the socio-economic infrastructure of the capital, by ensuring the extension and sustainable management of the urban and suburban forests. Other experiences can be found in Morocco, Algeria and Iran. The current FAO partnership with the African Union to implement the Great Green Wall Initiative is a more recent example; a mosaic of greening and livelihood support activities that extends across the Sahara and the Sahel region in Africa with Egypt, Sudan, Algeria and other North Africa countries supporting as partners.
What about Egypt?
Only about 3 percent of Egypt's land area is cultivated but desertification, accentuated by a rapidly growing population, is depleting this resource at a fast pace, representing a threat to food security.
Almost all the trees in Egypt are on irrigated lands and within urban settings. They are estimated around 61 million trees with a share of 0.7 per person.
Trees have a vital role to play within the Egyptian context not only in arresting movements of sand dunes, but also in ameliorating the climate, reducing air pollution, and providing a healthier environment.
Last year the United Nations General Assembly proclaimed 21 March the International Day of Forests. The Day celebrates and raises awareness of the importance of forests and trees outside forests.