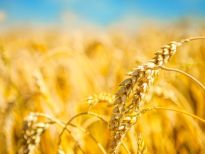 FAO: Wheat production to decline by 2% in 2014
The United Nations' Food and Agriculture Organization (FAO) said Tuesday that it expected world wheat production in 2014 to record 702 million tons, two million tons below the organization's March estimates.
"The quantity of produced wheat is 2 percent less than last year's," according to the FAO.
Macroeconomic analyst with the Ministry of International Cooperation Hady Ageena said that the decline in wheat production and its rising prices will affect Egypt significantly as it is the largest importer of wheat in the world. He added that Egypt imports large quantities of wheat for flour used in making subsidized bread.
According to the FAO indexes, food prices rose sharply in March by 4.8 points or 2.3 percent to an average of 212.8, the highest level since May 2013.
FAO chief economist Abdel Reda Abaseyan said that such rates were expected due to the unfavorable weather conditions in both the United States and Brazil and as a result of geopolitical tensions in the Black Sea region.
The government and private sector in Egypt import approximately 10 million tons of wheat a year. The government uses a mixture of domestic and imported wheat to produce subsidized bread, which costs about 21 billion annually.