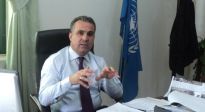 FAO Presents Plan Of Action To Develop Yemeni Agriculture
Yemen was prioritized at a regional conference of the Food and Agriculture Organization held in Rome in February 2013, dealing specifically with the Middle East and North Africa.
FAO representative in Yemen Salah Hajj Hassan explained that General Director José Graziano da Silva visited Yemen several years ago and decided at that point to prioritize Yemeni agriculture at the triannual meeting, also attended by the Minister of Agriculture and Yemeni Ambassador to Italy.
"The Plan of Action shows the vision of the coming years. We consulted with Yemeni ministries, as well as NGOs and representatives of the private sector, to build the overall framework. We have been focussing with what can realistically be done, as well as lessons from other efforts and how we can build on them."
"The final document will deal with activities to be implemented in a timeframe of four to five years."
Hassan detailed that the "five pillars" of the plan will deal with fisheries, livestocks, and crops.
"It is important to manage national resources effectively, especially given the effects of climate change. There is expected to be a loss of crop yields reaching 40%, which may increase, putting people in severe insecurity. This is especially true for people in rural areas, where about 72% of people live."
Hassan said that the only difficulty going forward is security.
Frankly speaking, the only difficulty we are facing in Yemen is security and limitations that are presenting difficulties for donors and our movement and willingness for the support of this beautiful country that needs us, and that we really need to help. Regardless, we are still showing our support, and are doing our best to assist Yemen."