With today's rapidly evolving digital technology, farmers have many options, but at a high cost. Discerning between the hype and the useful is therefore crucial to buying the right tools to increase profit. Digital and technology experts Rudie Raath and Stehan Cloete spoke to Lindi Botha.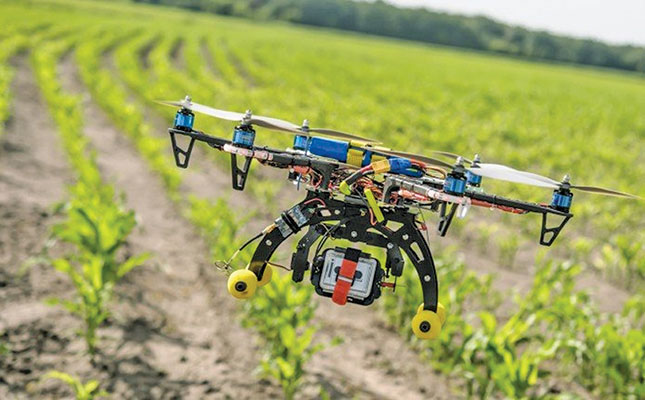 One of the biggest shifts in farming over the past few years has been the move towards connectivity.
The connected farmer concept goes beyond basic Internet services; it takes in everything from connected farming devices and connected livestock, to connected irrigation platforms and precision-farming concepts.
This includes irrigation and pest-control planning based on satellite images, and in recent years, drone footage.
Rudie Raath, chief digital officer at Datacentrix, explains that the need for this innovation comes from the pressure to produce better-quality crops, use more cost-effective methods, and apply irrigation and chemicals with greater precision.
"We're seeing innovative technologies such as drones fitted with forward-looking infrared FLIR [cameras and smart farming equipment], like the John Deere fleet of autonomous tractors, which are becoming commercially viable to mainstream farmers to augment their traditional farming methods."
He notes that this technology disruption does not stop at the farm, but continues into the entire supply chain, from the soil to the water table.
"The agricultural supply chain has seen massive investment in connected technologies, including carefully planned transportation, with route calculations based on orders and current demand. Packaging, manufacturing and logistics solutions now focus on technology innovation that can reduce the time between harvesting and selling produce from retail outlets."
Data at the centre
Raath points out, however, that technology such as connected farm vehicles or surveillance technologies that monitor and track livestock are not cheap; the cost of even entry-level digital equipment is high for the average farmer.
He believes that a far more accessible entry point is access to data, including data that can be shared by all farmers in a specific location, from weather data to geographical pest control data, soil changes, and even water and mineral quality.
"The golden thread through all these solutions is data," says Raath. "Data is undoubtedly the new soil when it comes to farming or the agriculture sector. Data analytics and statistical modelling of historical data are no longer an option, but a critical success factor for commercial farmers."
The role of co-ops, he adds, has changed fundamentally. They are no longer simply providers of physical items such as fertilisers, seeds, farming equipment or even silos for grain storage; they are now also data providers.
"Data is super-critical for crop planning, harvest predictions and understanding the selling price based on current demand on the market. Accurate and real-time data drives the foundation of good business decisions and this is becoming one of the most powerful tools a farmer can have access to."
He adds that access to accurate data on crops, the environment, the operation and the market can increase profit and reduce risk, not only for the individual farmer but for the agriculture sector as a whole, while improving its capacity.
"Global warming is a reality, and a growing population is forcing the sector to ensure it adopts innovative solutions to remain on track when it comes to food security."
Stehan Cloete, director at Agtech Africa, notes that while equipment manufacturers are starting to offer technology solutions that integrate seamlessly with one another, the benefit lies in 'big data'.
"The data belongs to the generator of the data after all, but what the generator of the data needs to understand is that a third party is needed to beneficiate the data for the analytics to enable actionable decision-making power. On a grain farm, for example, equipment is the largest chunk of the Internet of Things [IoT], and therefore most data is generated and used by machines and their implements."
Satellite imagery
He adds that satellite imagery is another major technology shift that has become more affordable.
"We've seen a big reduction in the cost of satellite imagery, higher frequency imagery cycles, improved resolution and added spectrums that show more relevant data. This data type is cost-effective when layered on other datasets throughout the growing season.
"When analysed holistically with other datasets such as variable rate prescriptions and financial data, it can add value. When viewed on its own, though, it's more of a nice-to-have and unlocks very little actionable data."
Cloete stresses that farmers should avoid the temptation of implementing technology simply because it is there.
"A farmer should start by measuring something on the farm or identifying a problem area that technology may be able to solve. He or she will then have a better understanding of the problem and be able to quantify its value or cost.
"With this information and the [benefits described by] the technology solution provider, the farmer can then establish if the technology will ensure a return on investment and have a positive net effect on the enterprise. Only then would I suggest investing in the technology."
Cloete believes that the benefits of many technologies have been overplayed.
"In the grains industry, until recently, the drone has created the most hype. I believe that drones will find a place in the grains sector over time, but at the moment I don't see the value of them at all.
"The concept of having a swarm of scout drones, or satellites, to detect pests and diseases early, and then to have another larger drone with [enough] fluid capacity to spray the identified areas, which should still be small, could work once there is more data on the spreading of pests or diseases. The question remains whether it will be effective."
In Raath's opinion, over-hyped technologies include machine learning and artificial intelligence, as these are still underdeveloped for the agriculture sector.
"The data points and the evolution of machine learning into deep learning methods are still 10 to 15 years away. For now, the experienced farmer is still the best 'machine' that can look at data and make an informed decision that will yield the best results.
"The core belief behind this statement is the fact that machine learning depends on real-time, always-connected data sources. In South Africa, we have large-scale farms that don't even have Internet connectivity. How can they connect to their data sources? Networking and providing Internet to all farmers is the real problem."
Will it increse profit?
Raath advises farmers who are considering investing in new technology to ask themselves whether it will make the farm more profitable.
"Technology acquisition is risky at best if you don't have an expert with you who understands the technology, the implementation methods and the ability to provide support after deployment. Many farmers try new technologies, but revert to traditional techniques because of the support costs. It's all about the numbers."
Cloete says that a farmer should start by measuring one aspect and getting into the habit of optimising.
"Even before you do that, I would suggest getting an independent agronomist to assess the potential of your soil and a precise measurement of its health status. This will be the foundation of precision [agriculture] on your farm.
"Invest in software that enables you to store the data you measure and technology that allows for third-party experts to access and beneficiate your data. This is regardless of whether you have a conventional or more regenerative operation. Measuring will help you to decide whether to implement other technologies as you'll be able to quantify the return on the investment."
According to Cloete, a common problem is that farmers feel pressure to adopt technology in order to stay competitive.
"Make sure you understand why [you're making the change] and then do it effectively. The challenge here is that there are so many solutions in the technology space and farmers don't have the capacity to research everything."
As a result, he suggests getting the advice of an independent consultant. Nevertheless, the farmer knows his or her operation better that anyone else, so should still be fully involved in the decision-making process, and comfortable that the right technology is being chosen.
Email Rudie Raath at [email protected], or Stehan Cloete at
[email protected]