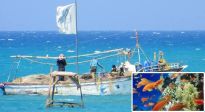 Collaboration and sustainability in the Red Sea and Gulf of Aden to be the focus of Regional Meeting in Cairo
Representatives from eight coastal countries of the Red Sea and Gulf of Aden are being convened in Cairo, 22-24 June, to attend the Regional Consultation on Sustainable Fisheries and Aquaculture in the Red Sea and Gulf of Aden.
Fisheries and aquaculture in the Red Sea and Gulf of Aden are unique in terms of the high numbers of endemic species in addition to the fragile nature of the corals that support them. This body of water has the highest temperatures and salinity levels in the world, with a high species diversity. The lack of regional research on stocks in the Red Sea and Gulf of Aden, combined with the threats associated with climate change and overfishing, put both the fish species and the habitat in which they live, as well as the thousands of small-scale fishers who rely on them for their livelihoods, at risk. Regional cooperation is essential in a body of water such as this, with stocks that are shared and exploited among a number of countries. Yet the Red Sea and Gulf of Aden, despite its importance in terms of both biodiversity and economies of the coastal countries, is one of the few countries that does not have a regional organization to address matters of sustainable fisheries and mariculture development.
This meeting will serve as a step to rectify this, and to move forward in a collaborative manner to address fisheries and aquaculture in this important area.
The consultation is being convened by the Ministry of Agriculture and Land Reclamation and the Food and Agriculture Organization of the United Nations Regional Office for the Near East and North Africa.