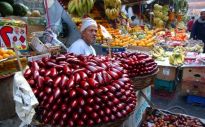 FAO Price Index – Updates from the Near East and North Africa
Cairo, 3 July, 2014 –
The global early outlook for wheat production in 2014 has been favourable. FAO's first forecast for world wheat production in 2014 stands at 704 million tonnes, with Near East and North Africa (NENA) production estimated at 49 million tonnes compared to 47.1 million tonnes in 2013.
The expected increase in global and regional cereal production in 2013 has already resulted in more affordable prices, which in turn is boosting utilization and trade in 2013/14, and helping to replenish world stocks. Regional stock-to-use ratio is expected to shadow the global ration, with NENA having up to 20 percent of the global stock-to-use ratio, with disparities between member countries, because of government procurement policies post-2008 food crisis.
Regional Import Dependency: Strategic Stocks Lighten Food Security Concerns
Egypt remains the world's largest wheat importer. Accordingly, cereal import requirements in the current marketing year 2013/14 (July/June) are forecasted at about 16.6 million tonnes, about 20 percent higher than last year and some 3 percent higher than the five-year average due to the decrease in strategic stocks. The annual food and beverage inflation rate in April 2014 was estimated at 17.52 percent. The instability of the Egyptian Pound continues to influence food prices in the Egyptian market. The potential decrease in subsidies for fuel, gas and food will likely contribute to an increase in local food prices, in addition to the annual seasonal increase in Ramadan (July).
The second largest importer of cereals, Saudi Arabia, has import requirements in 2013/14 (July/June) forecasted at 14.3 million tonnes, about 5 percent less than the previous year, but well above average.
Similarly, wheat imports would also remain high at 3 million tonnes. To maintain current milling demand levels and to expand the use of feed quality wheat as a substitute for barley and yellow maize in animal rations, wheat imports will also remain high at 3 million.
Iran's total cereal imports are forecast at 11 million tonnes in 2013/14 (April/March), consisting of maize (4 million tonnes), wheat (4 million tonnes), rice (1.5 million tonnes) and barley (1.2 million tonnes), about 25 percent less than last year's high levels but still 8 percent above the average of the last five years. The forecast of wheat imports, at about 4 million tonnes, is one-third less than last year, mainly due to higher carryover stocks following large purchases in 2012. Iran's state grain buyer continues to build its strategic stocks in light of concerns about domestic food security. The latest official information available indicates that the food and beverages price inflation index remains unchanged compared to the previous month and was 38.7 percent higher than 12 months earlier, mainly due to international sanctions, currency devaluation and localized food crises such as the craze for poultry meat.
Wheat imports are estimated at about 800 000 tonnes for Jordan, about the same level as the last five years' average during which the policy change of higher strategic stocks was implemented. Following the price hikes of 2007/08, Jordan increased its strategic reserve of wheat from 3 to 10 months as a precaution against future increases in food prices. Despite the budget deficit and the increased presence of Syrian and Iraqi refugees, wheat bread remains fully subsidized with the bread price fixed at USD 0.22 per kg where bakeries are provided with subsidized flour.
In Iraq, forecast of cereal import requirements in the marketing year 2013/14 (July/June) stands at 4.4 million tonnes, including 2.8 million tonnes of wheat and 1.3 million tonnes of rice. Large import requirements are driven by Iraq's aim to maintain three to six months' supply of wheat in its food stocks, as well as its commitment to supply each Iraqi citizen with 9 kg of subsidized flour monthly. Cereal prices remained stable compared to a month ago. Iraq's Ministry of Trade, through the Public Food Distribution System, continues to subsidize basic staple food commodities (rice, wheat flour, vegetable oil, sugar and baby milk formula). The emerging civil unrest in Iraq in various governorates will affect food availability in the months to come, as well as affecting agricultural production in Diyala and Salah El Din governorates. The local market price volatility is already spreading due to ongoing fears of prolonged conflict and localized violence.
Morocco is a food-deficit country where agricultural production fluctuates markedly from year to year due to rainfall variations. Morocco's cereal imports in 2013/14 are forecast at 4.7 million tonnes, 22 percent down from 2012/13 due to increased production. Wheat imports account for 2 million tonnes of this total. European Union and Black Sea countries supply most of the common (soft) wheat, while Canada is the traditional supplier of durum wheat. The food inflation stood at 0.7 percent over the past 12 months, in spite of the country's high import dependency rate; the impact of the changes in international prices on domestic prices is mitigated by government subsidies of more than 1 million tonne of "national flour", a common wheat of standard quality used to make flour for the low-income consumers.
Protracted Conflicts: Food Availability and Accessibility
The Syria normally relies heavily on food imports amounting to almost half of the total domestic utilization. The overall cereal import requirement is expected to increase compared to the previous year. The wheat import requirement in 2013/14 (July/June) is estimated at about 1.47 million tonnes, of which 1 million tonnes is anticipated to be imported commercially. Prices of bread and cereals ? major staples in the local diet ? increased sharply with a year-on-year inflation rate of about 64 percent.
Since the beginning of the conflict, prices of the main food commodities have increased substantially both in nominal and in real terms. Average monthly prices of wheat flour in local currency have more than doubled since 2011 in several locations. Rice and vegetable oil prices have almost doubled, whereas sugar prices are almost 65 percent higher than in 2011. Food commodity price increases remain high. Wheat flour price, in USD, is now almost double its 2011 level, and vegetable oil and rice prices are about 25 percent higher.
Yemen is largely dependent on imports from international markets to satisfy its domestic consumption requirements for wheat, the main staple. The import dependency for wheat is about 95 percent and in the last five years, an average of 2.7 million tonnes per annum of wheat was imported commercially out of a total domestic wheat utilization of about 2.86 million tonnes. As a consequence, the country is highly vulnerable to international commodity price increases and volatility. The import requirement for cereals in the 2014 marketing year (January/December) is forecast at about 3.6 million tonnes. Wheat is the main staple imported (almost 2.8 million tonnes), with rice and maize imports forecast almost equally at some 400 000 tonnes.
The continued depreciation of the local currency against the US dollar is having a severe negative impact on the overall value of the food import bill. The country's capacity to import is also curtailed by the record low levels of foreign exchange reserves. Average retail prices of wheat and wheat flour in specific markets are generally stable on a monthly basis, with seasonal variations. Large regional differences in retail prices exist depending on quality variation, transportation costs and distance of the entry ports.