South Africa looks to be heading for another large-scale brown locust outbreak this season, according to Dr Gerhard Vedoorn of CropLife South Africa and Dr Roger Price of the Agricultural Research Council. They spoke to Glenneis Kriel about the most effective means of combating these swarms.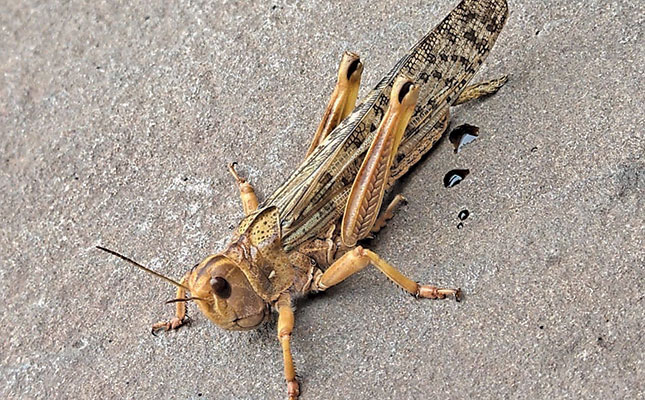 Overall conditions favour the development of giant populations of brown locust (Locustana pardalina) this summer.
Hundreds of adult swarms were reported in the Karoo during the autumn months of 2020 and 2021, and laid their eggs over a wide area. These lay dormant during winter, but are now hatching in large numbers. In addition, normal to above-normal summer rainfall has been forecast for South Africa, and this will increase the chances of survival for the hatching hoppers.
According to Dr Gerhard Verdoorn, operations and stewardship manager at CropLife South Africa, widespread small outbreaks have already been reported in the Springbok and Concordia areas of the Northern Cape, and the Graaff-Reinett, Cradock and Aberdeen districts of the Eastern Cape. "These reports are worrying, as they were received much earlier than usual," he says.
The problem
Dr Roger Price, research team manager at the Agricultural Research Council's Plant Health and Protection Unit, explains that L. pardalina is endemic to the Nama-Karoo region, which covers most of the Northern Cape and parts of the Eastern and Western Cape and southern Namibia.
It has an average lifespan of 78 days, with hatchlings developing through five stages, spanning about 56 days, before reaching sexual maturity. The female can produce up to 380 eggs in her lifetime.
The eggs, which are drought-resistant, survive the winter in the soil, and hatching takes place in spring when there is sufficient moisture in the soil and the ambient temperature rises. The eggs generally hatch a few hours after dawn, 10 to 14 days after being triggered by favourable climatic conditions.
The eggs can lie dormant in the soil for years, which can lead to outbreaks occurring soon after droughts have been broken.
Price says that the gradual build-up of eggs in the soil may have contributed to the outbreak in the Karoo that started in 2019 and developed into a serious outbreak in 2020 when rainfall increased following a seven-year drought.
"History has shown that large outbreak cycles in which swarms occur in pest proportions last between seven and 11 years. The locusts have evidently started another outbreak cycle," he says.
Controlling the hoppers
Verdoorn admits there is nothing farmers can do to prevent an outbreak except to try to reduce the size of populations by destroying hatchlings and hopper bands as soon as these have been spotted.
"Government is responsible for managing brown locust outbreaks in terms of the Agricultural Pests Act, but farmers can send their sheep in to trample the hopper bands [masses of hoppers that move together on the ground] or use bakkies towing tree trunks to crush them. Burning should be avoided, as it damages the ecosystem," he says.
Even if the locusts appear to have been eradicated, sightings should be reported as soon as possible to the local district locust officer or the Department of Agriculture, Land Reform and Rural Development's (agriculture department) locust depots in De Aar or Upington.
He adds that South Africa has had a long-entrenched brown locust control strategy, with the agriculture department keeping insecticides, protective clothing and spray pumps in stores at these depots as contingency measures to deal with outbreaks as soon as they occur.
The department also liaises with organised agriculture to nominate people to be trained and appointed as locust-control contractors in each district in outbreak-prone areas. These contractors, with teams from the community, swing into action when an outbreak occurs in their region.
"The teams, travelling in bakkies, follow the locusts to where they sleep at night and destroy them with pesticides. Problems were experienced because of delays in the payment of these teams towards the end of the last outbreak, which ended in June this year, but this has since been sorted out," says Verdoorn.
The key to successful eradication, stresses Verdoorn, is to destroy the locusts before they turn into fledglings. "Locusts can cover more than 100km/day once they develop wings, making them really difficult to track and destroy."
Destroying them before they fledge also helps curb egg production and uses up less pesticide, as the locusts are concentrated in smaller areas when wingless.
"Various products have been approved in South Africa for use on the brown locust. While these have a much reduced impact on the environment and break down far faster than chemicals used in the past, we still try to keep the environmental impact of management as low as possible."
Better technology needed
Price says government's locust-management teams are highly motivated, but control strategies need to be modernised to improve surveillance and control response.
"The Karoo has changed a lot over the past 50 years, with the majority of farms in the remote [areas] having non-resident farmers. This has left huge gaps in our surveillance systems. In addition, farm security is a great concern, and the spray teams sometimes find it difficult to gain access," says Price.
He adds that the Food and Agriculture Organization (FAO) of the UN has harnessed satellite and Internet technologies to strengthen the fight against the desert locust (Schistocerca gregaria).
The use of satellite and geographical information system technologies, such as the FAO's 'eLocust' system, allows field teams to report where locusts have been spotted and the direction in which the swarms are moving, which enables locust officers to monitor outbreaks in real time.
Price says the same is needed in South Africa. "There's an urgent need to know what's happening in detail at the press of a button, with the information being immediately mapped on the computer to enable decision- makers at the main control depots to move the control teams and pesticide resources around the Karoo to where they're most needed."
The system could also be linked to weather data to create early-warning systems of where new outbreaks might occur.
Since vast areas of the Karoo are not easily accessible, Price feels that aerial surveillance should be used to identify outbreaks and, where necessary, pesticide applied by crop-spraying aeroplanes.
"Small brown locust swarms aggregate into large swarms, which make excellent targets for aircraft," says Price.
The development of a GPS-linked app to enable farmers and the public to easily report sightings can also help to speed up the response.
"Drones are already being used against the desert locust in North Africa to spot infestations and to monitor favourable habitats for egg-laying. And, who knows, in the future our locust officers may use spraying drones rather than bakkie-transported sprayers to control locusts in the Karoo," says Price.
He adds that a united effort is needed to manage brown locusts efficiently. "During the outbreak that started in 2019, Namibia, in spite of warnings to get ready for an infestation, didn't have any pesticides on hand when the outbreak occurred. The problem is that it takes up to six weeks to formulate these pesticides. The same happened in Botswana."
Food as a control method
In response to a Farmer's Weekly news report in the 8 October 2021 issue (see pg16) about the coming locust threat, some readers suggested that the insects be caught and used for food or feed production.
Verdoorn says that locusts are high in protein, with many wild animals and even
sheep and cattle preying on them. They are also considered a delicacy by some people, who cook them in sheep fat and enjoy their fish-like flavour.
"People are welcome to try to catch the hoppers and see if they can sell them as food. But we had to deal with swarms as large as 20km last year. Animal and human impact simply aren't enough to control them."
Email Gerhard Verdoorn at [email protected], or Dr Roger Price at [email protected]. Phone the Upington locust depot on 083 326 7773, or the De Aar locust depot on 053 631 3621 or 084 760 8176.