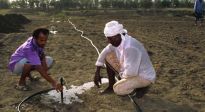 Sustaining Water Resources in a Water Scarce Country
Sana'a, 14 July 2014 –
The Netherlands Government and the Food and Agriculture Organization of the UN sign a new project agreement to enhance water resources management in Yemen. The USD 4 934 507 worth project will reduce groundwater abstraction in the Sana'a basin to more sustainable levels and support rural livelihoods in the whole region.
The project will introduce the principles of a sustainable use of groundwater to Water Users Associations and raise their knowledge and awareness on the consequences of water depletion on their livelihood as well as on the food security of the country.
"Currently the annual overall decline of groundwater levels in the Sana'a basin is reaching six metres while the groundwater resources depletion is about 200 mm³ per year. If action is not promptly taken, the risk of running out of water is imminent in the country", Dr Salah Hajj Hassan, FAO Representative in Yemen says.
To contribute reducing groundwater abstraction the project will also work directly with the Government extensions to introduce water-efficient and climate smart production systems.
"We will work to introduce the principles of the Integrated Water Resource Management to ensure the development of sustainable agricultural practices" says Hajj Hassan "the project is part of the FAO Regional Initiative for Water Scarcity , as depletion of natural resources, especially water, is a pressing challenge for the whole Near East and North Africa region. We are grateful to the Netherlands Government for the priorities accorded to this matter that is a priority for FAO and the Yemeni Government", he adds during the signature Ceremony.
As reflected in the newly formulated National Plan of Action for Yemen 2014-2018, the sustainable management of water resources is one of the key priorities that the Government of Yemen is committed to in order to sustainably support agriculture and rural development in the country.
"Empowering farmers to sustainably manage water resources is crucial in a country that is considered one of the most water scarce in the world. The project will have a special focus on the reduction of wasteful irrigation practices and the introduction of appropriate crop selection to sustain water resources in the country" says H.E. Jeroen Verheul, Ambassador of Netherland in Sana'a, "We hope we will be soon able to kick off a similar activity also in Tihama basin in the very near future".
The project agreement was signed by:
H.E. Jeroen Verheul, Ambassador of Netherlands in Sana'a (on behalf of the Minister of Foreign Trade and Development Cooperation)
H.E. Mohamed Saaed Al Saadi, Minister of Planning and International Cooperation
H.E Farid Ahemd Mogawar, Minister of Agriculture and Irrigation
H.E. Abdul Razaz Saleh Khalid, Minister of Water and Environment
Mr. Salah Hajj Hassan, FAO Representative in Yemen