New ostrich farmer Kabelo Lekalakala says the industry in North West can be returned to its former glory through the participation of young aspiring farmers.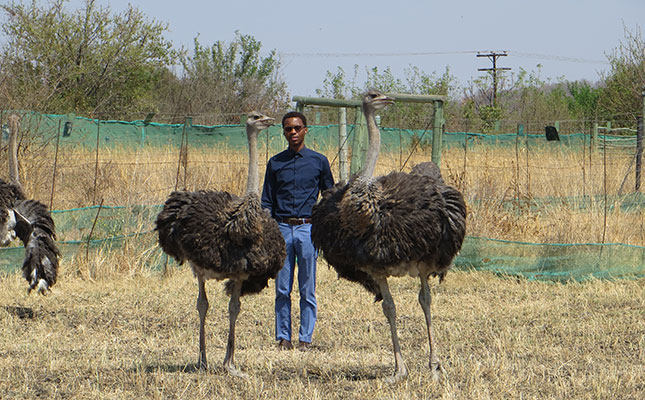 Kabelo Lekalakala runs the Pitso Ostrich Farm (pitso means 'the calling' in Setswana) in Mamogalieskraal outside Brits. A part-time farmer, he is also employed as a business adviser.
Lekalakala grew up in Bapong Village, in the Bojanala District Municipality in North West, an area he describes as being rich in mining, tourism and agriculture. He always wanted to be a farmer and was inspired by the farms he passed on his way to Sonop near Brits.
After matriculating, he successfully completed a BTech Business Administration in 2013.
In August 2017, he relocated to Oudtshoorn in the Western Cape, where he joined his current employer (he prefers this to remain confidential), working with ostrich farming entrepreneurs.
It was here that he was exposed to the ostrich value chain, from breeding and growing to slaughtering, leather tanning, and making feather and eggshell decorations.
As he developed a broad understanding of the business, he began researching ostrich farming.
"Through speaking to these entrepreneurs in the value chain, I became aware of the barriers to entry, including a lack of access to finance and to sustainable and growing markets. Appetite for transformation is also still lacking," he says.
Starting a business
In January 2018, Lekalakala took the plunge and launched his own farming operation in North West.
While recognising that this is no longer an ostrich farming region, he realised it had the potential to be revived after coming across the report, 'A profile of the South African ostrich market value chain in 2017', compiled by the Department of Agriculture, Land Reform and Rural Development (department of agriculture).
The study stated that while 30 ostrich farms were registered in North West, none was operational.
"I investigated why this was the case, and discovered that as the main production areas are in the Southern Cape, a lack of technical support was a deterrent in North West," he says.
In addition, high input costs and a lack of sufficient research into the treatment and management of diseases, such as Newcastle disease and avian influenza, also contribute to making ostrich farming an unattractive venture.
Lekalakala started off his operation by buying 17 day-old ostrich chicks from a farmer in Oudtshoorn and transporting them to North West.
After the 13-hour drive, he placed the birds in the garage at his home. As they grew larger, he constructed a 4m x 3m roofed structure to keep them safe at night. The structure was left open during the day to enable the chicks to roam around outside.
A hard lesson
Rearing ostriches turned out to be challenging. After only 10 months, 13 of the chicks had died, leaving him with only two male and two female ostriches.
After consulting various veterinarians in Brits and Hartbeespoort, he discovered that the birds had died due to improper infrastructure. The open structure had left them too exposed to rain and cold at too young an age, which had resulted in respiratory complications. In addition, he did not have proper access to veterinary services.
"I'm currently working with Afrivet to develop a vaccination programme and receive technical support. I attend their workshops with a family member who looks after the farm and assists me," he says.
Lekalakala adds that the workshops have taught him the importance of following proper procedure, as well as how to handle the birds correctly. He has vaccinated his four remaining ostriches against Newcastle disease, and had them dewormed.
Buying a farm
In May, he started looking for a farm, and approached the department of agriculture for assistance. He quickly realised, however, that the process would take too long.
"I had to buy a farm instead of waiting," he says.
He began by using his savings to settle his car loan, then sold the vehicle. This placed him in a better financial position to obtain a home loan, which he used to buy a 7ha farm equipped for ostrich breeding.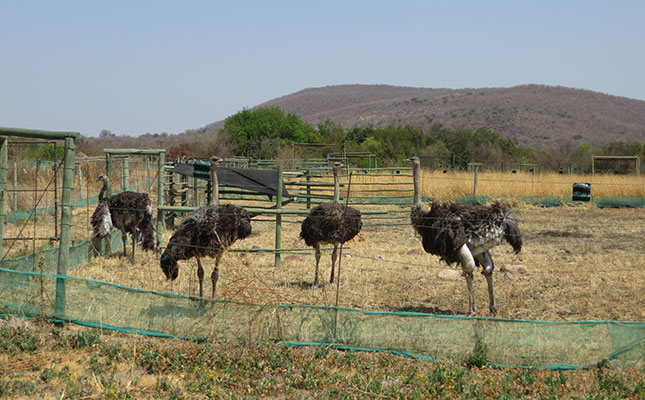 The property has two boreholes and is divided into nine breeding camps of about 0,5ha each. The additional 2,5ha is still in the process of being divided into camps. The stocking rate for ostriches is around 15 birds/0,25ha.
The breeding camps have been planted to lucerne and Rhodes grass, which has a
high nutritional content. The farm also has a maintenance workshop, and a steel container for housing newly hatched chicks.
This has infrared lighting to supply chicks with heat, as well as a ventilation system, and about 60 chicks can be kept here.
Lekalakala is also converting two sheds into houses to enable him to keep more chicks. The birds will be moved into the camps at three months.
Cutting costs
Two major input costs are feed and electricity. Fortunately, to offset the expense of feed, the previous farmer had planted Rhodes grass and lucerne.
The farm is supplied with three-phase electricity, with power bought directly from Eskom.
"The previous farmer said the bill had been about R10 000/ month. The electricity is used mostly for lighting to deter jackal, which are a threat to the birds," says Lekalakala.
The camps are also surrounded by wire fencing to deter these predators.
To cut input costs, he uses a similar feeding strategy to that of the previous farmer, but adds green leafy vegetables, such as unmarketable spinach and cabbage leaves, sourced from local farmers.
"The ostriches seem to enjoy it. I occasionally put aloe in their drinking water, which works as a laxative to promote a healthy gut," he says.
The mortgage on the property constitutes 60% of his monthly income, which prevents him from buying a car to improve operations and deliveries. However, he is in talks with a potential business partner, which could help overcome this difficulty. To further cut costs, he plans to incorporate solar power.
Feeding and breeding
After they hatch, the chicks will be fed starter crumbs for 90 days. Thereafter, they are fed grower pellets until they reach the age of 120 days. From this point, they receive maintenance feed.
"Grower pellets cost R256 for 40kg, which doesn't last a week. I bought two bags every fortnight, feeding 4kg/bird/day, 2kg in the morning and 2kg in evening."
He follows the feeding regimen suggested in the Ostrich Business Chamber's production manual.
The birds are ready for mating at about 36 months, when they weigh between 120kg and 150kg. Ostriches can lay up to 40 eggs per breeding season, which runs from May until January. Fertilised eggs incubate for 36 days.
Ostriches are slaughtered at 10 months, at a carcass weight of about 75kg.
Lekalakala is finalising a deal with an investor to help him buy 150 chicks. One B-grade chick costs about R450. He intends raising and selling 100 of these, and dividing the remaining 50 into breeding pairs.
"If you have a small flock [15 birds or fewer], you won't break even," he says.
Lekalakala believes that to be truly profitable in the industry, one needs to be involved in the entire ostrich value chain, producing meat, leather and feathers, all done on the farm. This comes with other cost implications, however.
Opportunities
Lekalakala plans to capitalise on the local tourist market by supplying meat and leather products to guesthouses, hotels and restaurants. He also wants to offer farm tours.
He adds that ostriches are sociable, which makes them ideal for use in an agritoursim concern.
"I'm still engaging a number of stakeholders identified as relevant to the business, but nothing has been finalised," he says.
Email Kabelo Lekalakala at [email protected].