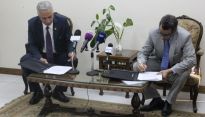 FAO appeals for USD 118 million to support Gaza reconstruction
Cairo, 12 October 2014 –
FAO expresses concern for the food security of all people in Gaza during the Cairo International Conference on Palestine, "Reconstructing Gaza", hosted today by the Government of Egypt.
"The livelihoods of farmers, herders and fishers were devastated by the seven-week conflict. Many families have lost daily sources of income and nutrition and are now unable to access or afford the basic inputs needed to resume production" warns Mr. Abdessalam Ould Ahmed, FAO Assistant Director-General and Regional Representative for the Near East and North Africa, adding "the agricultural sector suffered over USD 500 million of damages with over 43 percent of its production gone lost. The international community needs to support a transformational change in Gaza by providing Gaza's population the means to recover from the crisis".
Palestine and Gaza Reconstruction
A Letter of Intent was signed between FAO and the Palestinian Minister of Agriculture, H.E. Issa Shawki, yesterday to reaffirm joint commitment for the early recovery of Gaza.
In line with the challenges underscored in a recent assessment of the situation after the crisis and to respond to the early needs of the people of Gaza, FAO is appealing for USD 27 million to carry out emergency interventions and USD 118 million to cover reconstruction interventions under the United Nations Support Plan for the Transformation of the Gaza Strip. The Plan, formulated by the UN system, focuses on the economic empowerment of the people in Gaza, the recovery of their livelihoods and education, the enforcement of social protection mechanisms and the management of natural resources for food production.
"We commend FAO's support to our people. The Palestinian Authority has been working closely with FAO for the last 12 years, successfully supporting agriculture which is one of the most important productive sectors in Palestine, which is key for the food security of millions of people" says the Palestinian Minister of Agriculture at the opening of the signature ceremony.
"A few hours after the ceasefire on 27 August, FAO began distributing fodder and water tanks and focused on reactivating production through provision of seeds and the rehabilitation of wells, power generation and marketing facilities", said Mr Laurent Thomas, FAO Assistant Director-General for Technical Cooperation, "but ongoing programmes are not sufficient to resume production and help the thousands of farmers, herders and fishers that were heavily affected by the seven-week conflict. The immediate reconstruction and development of agriculture in Gaza are key to building the foundation for sustainable peace and prosperity", he added.
Media Contact
Raffaella Rucci
FAO Media Relations (Near East and North Africa)
Tel: (+2) 02 333 16 000 Ext. 2734